Water Codes: The Science of Health, Consciousness, and Enlightenment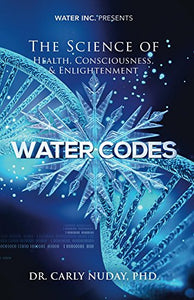 Join Dr. Nuday in exploring the real science of structured water, as she reveals breakthrough science on water that shows us not only how health actually works, but also describes, for the first time, how consciousness, the law of attraction, and even the science of karma actually work. There is a real science to how these fundamental laws of our experience work, and it is all found within the book Water Codes!

Discover the amazing world of Water, Consciousness, and Spirituality like never before. Through new science and ancient wisdom, Water Codes reveals the true story of Water and decodes the leading sciences of health, DNA, energy, and enlightenment, in a fascinating, eye-opening experience that will change the way you see yourself and your world forever!

Learn how your body really works, and the hidden truth about health and wellness, on an amazing journey through the hidden world of the science and spirit of water, with revolutionary discoveries. With this knowledge, we not only discover who we really are and how our bodies truly work, we also realize what the sacred texts of our ancestors were really trying to tell us about Life, Consciousness, Karma, Water, and the fabric of our Universe - answering mankind's deepest and greatest questions and unlocking the secrets hidden deep within the Water Codes.

Presented in a clear and eloquent style, Dr. Nuday walks through new concepts and definitions with helpful illustrations and examples, making even the most complicated science simple enough for everyone to understand!