Volixer Water Concentrate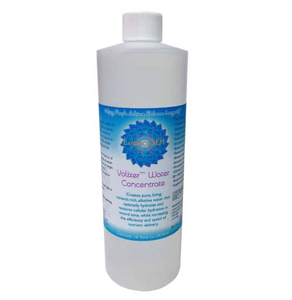 Volixer Water Concentrate
Experience Optimal Hydration Like Never Before!
Volixer Water Concentrate creates optimally-hydrating water that restores cellular hydration in record time. Simply add it to your own water, and you create pure, living, mineral-rich, alkaline water to rejuvenate your whole body.
This innovative Volixer Water Concentrate has been restructured through a patent-pending process, creating biologically-preferred molecular structures that increase your nutrient absorption and utilization.
Volixer Water's unique structure allows it to easily pass through cell walls, delivering oxygen, nutrients and enzymes. The unique structure also assists the removal of toxic waste that accumulates in your cells.
Provides optimum cellular hydration and mineral balance
Reduces inflammation and pain for improved joint motion
Boost physical and mental energy
Enhanced mental clarity, less stress, restful sleep
Increases nutrient absorption and utilization
Revitalizes detoxification processes
Elevates oxygen levels
Enhances metabolic efficiency (for weight loss)
Supports the immune system
Restores pH balance
Better digestion
Softer, suppler skin
Refreshing taste!
All water is not created equal.
Volixer Water Concentrate Hydrates Like No Other
Although water is essential for survival, many people exist in a chronic state of mild to moderate dehydration without knowing it.
Over 99% of all cellular chemical reactions are facilitated by water. Lack of water OR quality of water can lead to dehydration, loss of concentration, headaches, irritability and weight gain. Many people confuse hunger for thirst. Occasionally, there may be a decrease in appetite and an increase in thirst as the activated Volixer Water penetrates into the cells more readily.
Cellular dehydration is a major contributing factor for aging and contributes to many degenerative conditions.
With optimal hydration, inflammation is reduced and joint motion improves so you can feel rejuvenated.
Common experiences that can occur within minutes of drinking your first glass of Volixer Water include a decrease of localized inflammation, or a sense of greater well-being in the digestive system and throughout the body.
Some users may experience a detoxification reaction, which could show up as a stronger odor in sweat and is usually a sign of dehydration prior to drinking Volixer Water. If the strong sweat odor persists, there may be a magnesium deficiency (widespread problem plaguing the western lifestyle). If you show symptoms of this, try taking Sea Vitality – formulated to reverse magnesium deficiency.
Directions for Use
A 16 ounce bottle of Concentrate will make 16 gallons of activated Volixer Water.
Drink a minimum of four 8 ounce glasses of Volixer Water per day, preferably on an empty stomach.
Additional Volixer Water may be consumed throughout the day with food or in smoothies, as desired.
Recommended Use
Experience the effects of optimal hydration. Helps fight infections, increases brain power and energy. Nourishes your blood and lymph, supports your immune system.
 To learn more or purchase, visit the (Life Enthusiast) site from the "Buy Now" affiliate link.