The Shape of Love: Discovering Who We Are, Where We Came From, and Where We're Going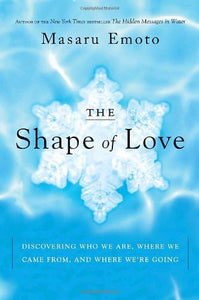 This cutting-edge new work, by the author of the New York Times bestseller The Hidden Messages in Water, presents a revolutionary understanding of life and consciousness and provides answers to the most profound questions of existence.

Introduced in the bestselling The Hidden Messages in Water and the hit cult film What the Bleep Do We Know?, the groundbreaking work of Japanese scientist Masaru Emoto captured the popular imagination and launched a worldwide movement. Using high-speed photography, Dr. Emoto discovered that crystals formed in frozen water are affected by our thoughts, words, and feelings. Since humans and the earth are composed mostly of water, his findings have far-reaching ramifications for individuals, for human society, and for the global environment.

In The Shape of Love, Dr. Emoto shares new images from his research and for the first time draws out the significant lessons of his work. In a clear, conversational style, he interprets the messages hidden in his extraordinary photographs and explains how his discoveries can help us find answers to these eternal questions: Where did we come from? Why are we here? Where will we go after we die? Providing a new way of looking at such important issues as how we treat others and the earth itself, Dr. Emoto's findings encourage the positive actions that spell a better future for all.

A magnificent follow-up to The Hidden Messages in Water, The Shape of Love is a fascinating investigation into the intersection of science and spirituality and its impact on our lives and our world.