Quantum Field Upgrade - The Field for Your PET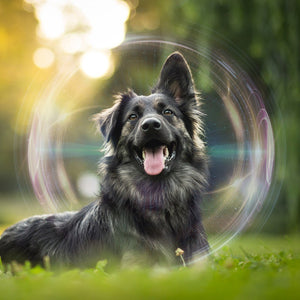 Boost your Pet's Consciousness Level

Harmonize and Neutralize EMFs

Improve Vitality and Productivity

Optimize Performance

High flexibility regarding Hawkins scale values:

Default Hawkins Value Day/Night: 600/500

You can change these values at any time (Range 500 – 900)

30 min. Booster available for each day (Booster Range 1000 – 1200)
You will NOT be charged before the end of the trial. You can easily cancel before the end of the free trial.
After the free trial you can always easily cancel up to 3 days before the next payment date (which is either once per month or once per year depending on your choice).
Description
We've all seen cats and dogs that are just so happy to see their owners when they come home from work. They're running around, jumping on the couch, and generally acting like they can't wait to get some one-on-one time with you.
But what if your pet didn't always act like this? What if they were more restless? What if they had trouble sleeping? What if they were more aggressive than usual?
You might wonder how you could make these changes happen in your pet. Well, here's the thing: it's not just about their diet or the toys you give them—it's also about how their environment affects them.
There are two things that can have a huge impact on how your pet feels: EMFs and energy fields. EMFs (electromagnetic fields) are everywhere, from cell phones to TVs to computers—and they can have a negative effect on our pets' health and well-being. The good news is that there are ways to protect against them by sending them pure quantum energy—The Field for Your PET.
The Field for Your PET is an energy field generator that helps harmonize and neutralize EMFs in your home—keeping them out of reach of your pet.
Drink Water!
After activating the Quantum Upgrade subscription, you must drink a good amount of water, especially in the first 2 weeks after activating. Drinking plenty of water will help your body adjust to the new energy frequencies that are being transmitted through your body.