Quantum Field Upgrade - The Field for Home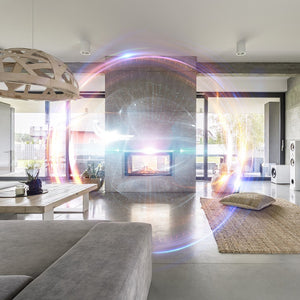 Harmonize the Energy in your Home

Neutralize Negative Frequencies

Harmonize and Neutralize EMFs

Support your Plants

Attune Happiness to your Home

High flexibility regarding Hawkins scale values:

Default Hawkins Value Day/Night: 600/500

You can change these values at any time (Range 500 – 900)

30 min. Booster available for each day (Booster Range 1000 – 1200)
You will NOT be charged before the end of the trial. You can easily cancel before the end of the free trial.
After the free trial you can always easily cancel up to 3 days before the next payment date (which is either once per month or once per year depending on your choice).
Your home is your sanctuary. It's where you go to relax and recharge. But what if there's something in your home that's not letting you do that?
It might be electromagnetic fields (EMFs). EMFs are invisible, but they can have a major impact on your health, especially if you're sensitive to them. They can also interfere with the natural energy flow in your home, which can affect how happy and healthy your plants are.
What's more, the way we live today has changed dramatically—and so have our homes. We've got more devices than ever before and more sources of EMFs. And even if we don't use them all at once, their combined effects can be significant.
The Field for Your HOME will help neutralize negative frequencies and harmonize EMFs so they aren't interfering with your life or keeping you from relaxing in peace. It'll also help support the plants in your home by attuning happiness to them.
Drink Water!
After activating the Quantum Upgrade subscription, you must drink a good amount of water, especially in the first 2 weeks after activating. Drinking plenty of water will help your body adjust to the new energy frequencies that are being transmitted through your body.