Quantum Field Upgrade - The Field for Business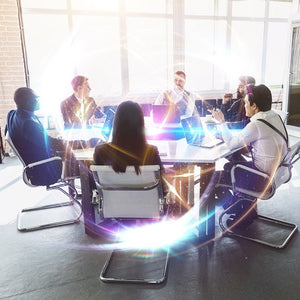 Harmonize the Energy

Neutralize Negative Frequencies

Harmonize and Neutralize EMFs

Create a Positive, Energetic Environment

Attune the Prosperity Energies for your Business

High flexibility regarding Hawkins scale values:

Default Hawkins Value Day/Night: 900/600

You can change these values anytime (Range 500 – 900. More with extra permission.)

30 min. Booster available for each day (Booster Range 1000 – 1200)
You will NOT be charged before the end of the trial. You can easily cancel before the end of the free trial.
After the free trial you can easily cancel up to 3 days before the next payment date (either once per month or once per year depending on your choice).
Necessary: The Field for BUSINESS can only be set up when you are an owner or an authorized representative of the company, or when you have permission from an owner or authorized representative.
The Field for Your BUSINESS creates an ideal working environment, where your employees can be happy, healthy, and productive. It's also the field that allows you to attract new clients and customers into your business.
Harmonizing the energy in this field helps to neutralize negative frequencies that may be floating around in your area. This will help to create a positive, energetic environment for everyone who works there or comes into contact with it.
Neutralizing EMFs (electromagnetic fields) can also help to ensure that these fields are not interfering with your workers' health or productivity. Creating positive energetic environments can help people feel more comfortable in their jobs and make them want to stick around longer!
Attuning the prosperity energies for your business will help attract positive opportunities into your life as well as help protect your assets from outside influences that might try and take them away from where they're supposed to go!
Drink Water!
After activating the Quantum Upgrade subscription, you must drink a good amount of water, especially in the first 2 weeks after activating. Drinking plenty of water will help your body adjust to the new energy frequencies that are being transmitted through your body.