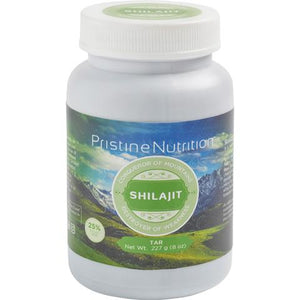 Nature has designed ecosystems such that raw wild living spring water provides doses of minerals and electrolytes necessary for our survival. But in our modern world of denatured, processed water and mono-cropped, mineral-depleted soils, we're just not getting the spectrum of minerals we need. Two time Nobel laureate, Dr. Linus Pauling once said: "You could trace every disease and every ailment to a mineral deficiency." And 90% of Americans are deficient in trace minerals.
Shilajit Tar is composed of 84 Organic Plant Based Minerals, Fulvic, Humic, and Ulmic acids.
Shilajit is a mineral pitch harvested in the Himalayan Mountains at an elevation of 8,000 to 13,000 feet during the warm season. An abundance of microbial life feeding on ancient flora, fauna, and rock creates this amazing panacea. Shilajit's high mineral content (84+ organic minerals) has been said to provide endocrine-regulating properties (adaptogenic). Shilajit is a balanced and truly amazing super-food, comprised of useful mineral and organic constituents. An essential natural daily supplement, Shilajit is taken to help support digestion and assimilation of food nutrients and allow for greater elimination of toxins and waste products. We have searched the world for the best source of natural Shilajit. After extensive research we zeroed in on the finest Shilajit, handcrafted in the Himalayan Highlands, and imported directly to provide you with the purest, highest quality Shilajit available. A growing body of scientific evidence documented in "Shilajit in Perspective" corroborates the extraordinary contentions that Ayurvedic medicine has made regarding Shilajit for thousands of years.
SUGGESTED USAGE: It is recommended that each individual start with 1 g to see how their body reacts to Shilajit over time. Shilajit is a cleansing agent, some people may experience more favorable results after building a slow tolerance. 
To learn more or purchase, visit the Live Pristine site from the "Buy Now" affiliate link.