N Type Ceramics for Hot Tubs, Spas and Aquariums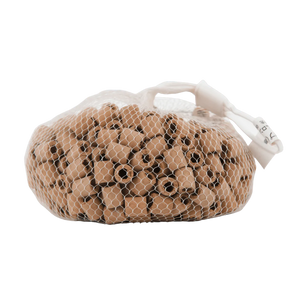 E

ffective at adsorbing nitrogen.

In a fish aquarium, residual feed and droppings tend to rot, and ammonium nitrogen is produced. Type N EM-X® Ceramics are effective at adsorbing nitrogen.
A

mmonium nitrogen test

Type N ceramics were put in a solution whose concentration of ammonium nitrogen had been adjusted, and changes in the ammonium nitrogen concentration were measured. While the concentration was initially high, about 20mg/L, it was reduced to almost 0 after 300 hours.
R

emoving ammonia

Two weeks to one month later, when the ceramics' capacity to adsorb ammonia becomes low, microorganisms that decompose ammonia settle on the surface of the ceramics and start removing ammonia.
Quantity to Use
Place in a water tank near the filtration unit.
Also can be used in hot tubs and spas.
Combine the N-Type with some EM-1® for an alternative to chlorine in hot tubs and spas.