Metatron Personal Meditation Floorplate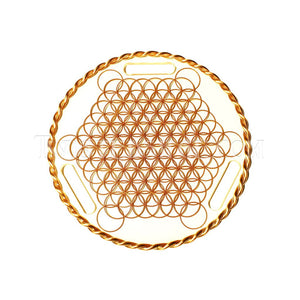 Metatron Plate
The Metatron Plate contains an 89-Ring matrix, plus 6 points to expand into the Fruit of Life. The Metatron's Plate starts with the Flower of Life pattern then expands it.

The Fruit of Life and the Fruit of Life Floorplate both contain the full 127-Ring matrix which makes up this expanded version of the Flower of Life. Energetically, they will both be the same.

The 96 Golden Fire Rings, along with the outer Regeneration Ring, create just as a powerful column as the larger floorplates. The mini Floorplate weighs 4 lbs 11 oz.

The outer Regeneration Ring is a super heavy duty ring at nearly 15 inches in diameter.
The Plate is large enough to fully stand upon.  It is sturdy, made of 4 layers of petal rings, and an ultra heavy outer Ring, each layer poured with EcoPoxy, a plant-based resin from Canada.  Which is also UV resistant to avoid yellowing over time like other epoxy brands.
Pictured is a Metatron's Plate with three handles cut into the EcoPoxy.  You can choose one, two, or three handles.  You may also choose no handle, though I certainly do prefer to have one if it is to be a portable unit.
The three handles were in this Plate simply for three people to gather and create a trinity to do energy/journey work
The Metatron Plate can be used as the Fruit of Life Floorplate is used in the video presentation found here, or it can simply be used to charge food and water, to hang above your head on your headboard, under the bed, or whatever else you are drawn to use it for.
Each Metatron Plate is an individual creation.  Yours may have slight imperfections, such as a tiny air bubble caught in the interior, or a wave in the finish, but does not affect the energetic quality of the piece.  Each Plate is made with the utmost care throughout the process. 
As these are a large undertaking, it may take up to a month to create your custom floorplate.  If there are others in queue ahead of you, it can take longer.  We strive to have the floorplate to you within 3 weeks.  You are welcomed to check in at anytime, and we send updates and photos along the way.  Just know that it will take as long as it needs to, to create this special portal, which can propel you for a lifetime, for you. 
To learn more or to purchase, click the "buy now" affiliate link