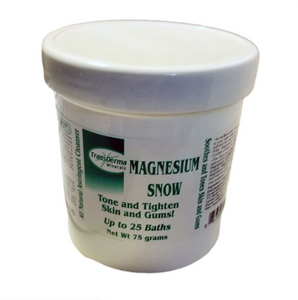 According to Mt. Sinai, 90% of Americans have a Magnesium deficiency. This is synonymous with diabetes and many cardiovascular problems, and has even been implicated in chronic stress, anxiety, depression, sugar cravings, celiac and digestive issues, hormonal imbalances, trouble sleeping, and more. Magnesium is responsible for over 300 biochemical reactions in the body and impacts blood pressure, metabolism, immune function, and so many other aspects of health. Magnesium is absolutely key.
Detoxify and Relieve Congested Skin - Pull toxins out!
Mix with water or magnesium oil to make a paste and apply
Use it in your detox bath to stop re-absorption of toxins
Magnesium Powder (Snow) pulls toxins from deep within your body through skin cells, not to be reabsorbed..
Use this powder mixed into a wet paste that will pull toxins from your skin. You can further enhance this effect by mixing in some Laminar Powder.
Magnesium Carbonate will easily get rid of your constipation. Be very careful with the amount you try, as its effects can be quite dramatic.
Unless and until you clean out your insides, diseases can only be in remission, prepared to resurface. Your path to healing must include cleansing endeavors to remove the causes of disease.
Magnesium is a key, essential nutrient, necessary for every major process in your body. It's needed for bone strength, muscle strength and heartbeat, as well as the functioning of your nervous system. Without these taking place efficiently, your body is in trouble.
To learn more or purchase, visit the (Life Enthusiast) site from the "Buy Now" affiliate link.
Beyond easing constipation, magnesium allows you to sleep well and stay calm, avoiding mood problems, restless legs, muscle cramps and twitches. It works by activating the rest, repair and digest side of your autonomic nervous system.
Along with alleviating constipation, Magnesium Carbonate has a wide array of medicinal properties in the prevention and treatment of magnesium deficiency.