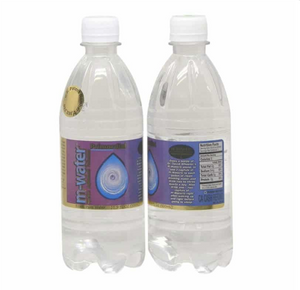 Description
M-Water for Superior Hydration for More Energy, Available Oxygen, and…
Increase absorption and utilization of nutrients
More efficient detoxification of the whole body
Decreased pain from inflammation
More perfect cellular replication process.
In addition, all other supplements and nutrients are absorbed more efficiently, promoting overall good health. You'll feel all body systems function better, to support health from degenerative diseases.
Independent clinical studies prove that drinking sufficient amounts of M-Water significantly increases cellular hydration within a few days, then stabilizes at higher levels over extended periods of time.
The healing properties M-Water are based on a holistic healing philosophy that is similar to many cultural medicines that support optimal health. Higher principles of healing are invoked to heal the body, mind and emotions, in the most comprehensive way possible.
Vibrational and energy changes to M-Water increase your hydration – nothing chemical is added for the superior hydrating effects, except minute amounts of seed minerals from ancient clay sources.
By decreasing the water molecule size, a dramatic increase in hydration takes place through your gut wall, and into all the cells. When water molecules are smaller, they hydrate easier.
Patented M-Power Aqua Technology is used to transform ultra-purified water using the revolutionary Elix® system from Millipore with the addition of small amounts of minerals from ancient clay sources. NMR O17 spectroscopic analysis proves that M-Water contains much smaller H2O clusters than the same water that has not been transformed with Health BreakThrough's patent pending technology.
Directions for Use
Long term, Careful Applied Use
For a refreshing and tasty water drink, use two capfuls per gallon or just a few drops in a glass of water
Super Healing Response
To super charge the healing response, take a capful of undiluted M-Water right after waking up and right before going to sleep.
Recommended Use
Transform drinking water for superior hydration – the underlying issue for most chronic health problems. Removes energy blockages and gives you better nutrient absorption/waste elimination, more efficient immune system, clearer thinking and balanced emotions.