Heddeka Elemental Water Coaster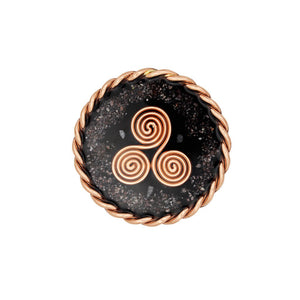 Heddeka Water Coaster
The Heddeka coasters feature a heavy-duty 4.5 inch Regeneration Ring, a Shungite base, three Anchi Crystals, purple lepidolite, a Heddeka cut to the Golden Fire measure, and all are encased in EcoPoxy, a plant-based, UV-resistant resin!!
The Regeneration Ring's influence on water is to take it to it's highest aspect, that of water before it came to Earth. 
The Golden Fire measure within the Heddeka is clearing memory of water.
The Heddeka Water Elemental symbol, is connecting us even more with the consciousness of water.
The energetics of the Shungite is being carried within the Tensor Field, into the water.  Shungite has a phenominal effect on water.
The Anchi Crystals  are bringing their energetics into the water, through the Tensor Field of the Regeneration Ring.
The purple lepidolite is harvested by our friend Randy Hatton, from a very sacred space.  Water loves this specific crystal form very much!
The Coaster are encased in EcoPoxy, a non-toxic resin that is over 70% bio-content.
Coasters will vary from photo, as they are all individual and hand made, but the materials will all be as described.

We do not recommend placing extremely hot items on the coasters.  High temperatures may soften the surface of the resin.  I still place my coffee mug on the coaster, just not a piping hot cup of tea :)

EcoPoxy is durable and resists scratching, yet the life-time warranty we offer does not apply to the aesthetic aspect of the Coasters.
To learn more or to purchase, click the "buy now" affiliate link