EM-X Gold® Beverage Stone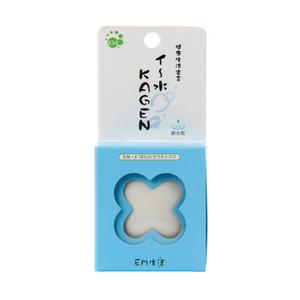 Enjoy tap water without chlorine when you use EM-X Gold ceramic stone. 
EM-X® Gold Ceramics are prepared by adding EM and EM-X® Gold to a high-quality Kibushi Clay from Seto City, Aichi in Japan, and produced by firing at a high temperature.
Each product is carefully made by craftsmen and the handcrafted ceramics can be used for various purposes such as drinking, cooking, and for bathing.

Health Benefits of Structured Water. 

Energized structured water has numerous health benefits for the human body. For example, it promotes cellular healing and the optimal functioning of tissues and structures by charging the water molecules within the cells to their optimal level.

It also improves the hydration and detoxification processes of the body

Promotes a Healthy Immune System
Structured water supports your immune system in several ways, including promoting optimal bioavailability of nutrients and the hydration of cells. It also makes it easier for your cells to absorb oxygen, resulting in the proper functioning of your systems.

Additionally, it aids in preventing toxins in the body that could negatively impact your immune system.

How to use and care for your EM-X Beverage Stone:  
1. Put 1 EM-X® Gold Ceramics Beverage Stone in a water-filled jug, pot, or kettle.
2. You can drink the water straight or boil the water for making tea or coffee.
3. The Beverage Stone needs to be recharged/washed every 3 months by soaking in a solution of EM-1 and water for 24 hours in a 1:20 soak.  By soaking the ceramic stone in an EM-1 solution, the microbes will help break down all the impurities that were removed from the water by the ceramic stone, thereby cleaning it and making it ready to use again. The 3-month recommendation is an average, but you can soak more regularly based on the impurities in your water and how much water the stone is treating each month.