Dowsing Discoveries: Finding Water and Other Mysteries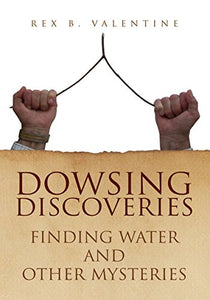 Dowsing Discoveries: Finding Water and Other Mysteries is a compilation of Rex Valentines 45 years of exciting experiences as a professional Dowser. This how to book includes true accounts of his life, from learning how to locate water in his community to becoming a widely known Dowser in Western Washington, capable of finding lost people, remote viewing, map dowsing, and oil and gold location.


This book also details Mr. Valentines amazing discovery of what he believes to be an extensive Ancient Civilization in the area extending from the Pacific Ocean to the Cascade Mountain Range, centering around Olympia, Washington.


Tied into the mysterious Mima Mounds, his theory brings to life the possibility of a huge progressive civilization thriving, warring, and vanishing several thousand years ago.


This is a tantalizing book, allowing you, the reader, to experience and know about the unknown. As you read, Allow yourself to know, and wonder!