Blue Covenant: The Global Water Crisis and the Coming Battle for the Right to Water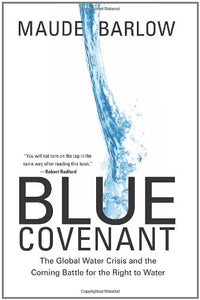 A passionate call to action from one of the leading voices in the global struggle for universal access to the earth's most vital element—a sequel to the acclaimed

 

Blue Gold."Life requires access to clean water; to deny the right to water is to deny the right to life."

—from the introduction to 

Blue Covenant

In their international bestseller 

Blue Gold

, Maude Barlow and co-author Tony Clarke exposed how a handful of corporations are gaining ownership and control of the earth's dwindling water supply, depriving millions of people around the world of access to this most basic of resources and accelerating the onset of a global water crisis.

Blue Covenant

, the sequel to 

Blue Gold

, describes a powerful response to this trend: the emergence of an international, grassroots-led movement to have water declared a basic human right, something that can't be bought or sold for profit.

World-renowned activist Maude Barlow is at the center of this movement, which is gaining popular and political support across the globe, encompassing protests in India against U.S. bottling giant Coca-Cola; in Bolivia against the water privatization scheme of European water conglomerate Suez; against the use of water meters in South Africa; and over groundwater mining in Barrington, New Hampshire, and dozens of other communities in North America.

With great passion and clarity, Barlow traces the history of these international battles, documents the life-and-death stakes involved in the fight for the right to water, and lays out the actions that we as global citizens must take to secure a water—just world—a "blue covenant"—for all.