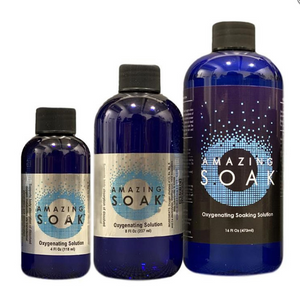 Increase Your Oxygen to Eliminate Pain
Rejuvenate Your Skin and All Internal Tissues

Soak your body (or feet) to increase your oxygen, energy, and alertness.  Revitalize your skin with deep pore cleansing. Reduce stress and pain.

The longer you soak, the deeper it goes. Enhances your available oxygen to help:

    Alleviate sore, tired, or over-exercised muscles
    Recover faster from injury, surgery, strenuous activity
    Reduce pain from inflammation
    Increase blood flow
    Effective oral antimicrobial rinse
    Improve energy and sleep or relaxation
    Support elimination of toxins.

Amazing Soak Diminishes Skin Problems

Antiseptic (disinfecting) and anti-inflammatory (reduce redness, swelling) for skin lesions, scrapes, cuts, red rashes/bumps, blisters, and bedsores.

Use weekly to restore your internal oxygen balance, and support detoxification (cleansing) from all cells.
Fast Results

This mineral electrolyte formula generates oxygen to quickly penetrate your skin, reaching all internal tissues. Simply bathe in it, soak your feet, apply in a wet cloth, or inhale as vapors.

Add to humidifiers, vaporizers, and air purifiers to:

Improve respiratory and sinus conditions
Soothe sore throat, runny nose
Neutralize the effect of exposure to airborne allergens, pathogens, environmental contaminants, and VOCs
Remove odors and get a clean, fresh smell.

To learn more or purchase, visit the (Life Enthusiast) site from the "Buy Now" affiliate link.