A Beginner's Guide to Cold Showers: How to Increase Energy, Lose Weight, & Curb Depression with a Cold Shower Routine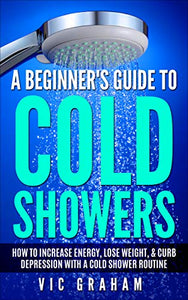 After a hard workout, a young man decided to take a cold shower, and this act changed his life forever. He reduced body fat, improved his energy levels, and boosted his immune system. In A Beginner's Guide to Cold Showers, water therapy expert Vic Graham provides readers with a clear introduction to cold showers. He covers how to prepare for and take a cold shower, what you can expect to gain from a cold shower, and how to make them a part of your life routine.
Do you often feel tired, depressed, or anxious? Perhaps you want to improve your immune system or lose body fat?

Vic Graham takes you through the science of cold showers and why they can be a helpful cure for the all too common issues of low energy, depression, and anxiety that plagues much of society today. Graham also outlines how cold showers can transform your body and help you burn fat efficiently.
Do you want to challenge yourself, feel awesome, and ultimately transform your life?
Cold showers have the power to do that. The simple act of having a cold shower can have profound effects on your life and improve how you deal with stress in your day to day life. So take the plunge into A Beginner's Guide to Cold Showers. This book is a quick and simple read that will give you an actionable strategy you can start implementing TODAY.  I'm very excited for you to join the movement and start this journey… Let's do it together!