12 Essential Minerals: An Introduction to Cell Salts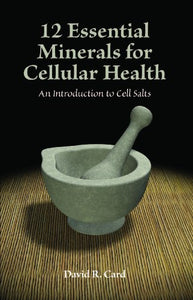 A short, simple and readily-accessible summary of the internal and external therapeutic uses of the 12 essential tissue salts, commonly called "cell salts."
The use of cell salts to treat a wide variety of health-related conditions has been extremely popular in Europe (especially in Germany) for many years. Today, there is widespread and growing interest in this branch of homeopathic treatment in the U.S., as evidenced by the inclusion of these twelve cell salts in special displays in health food stores across the country.
Much of what has been previously written on cell salts is in archaic medical language. Dave Card's new book is different. He explains cell salts in a comprehensive fashion, yet simply, and in modern language; gives clear instruction in how to use cell salts, and supplies extensive lists of various disease- or imbalance-conditions that can be helped by cell salt supplementation.
A section on the external uses of cell salts, something rarely presented in the English language, is also included. Contains a correspondence between the twelve signs of the zodiac and the use of each of the twelve different cell salts. The book is clearly indexed.
"Dave Card's books have been a great tool in my own practice."-Cesar Diaz, M.D., Family Practice/ Natural Medicine
"Cell salt supplementation has dramatically increased the general overall health and vitality of my clients."-Christopher Noel, Licensed Massage Therapist