Cover For Jug And Dispenser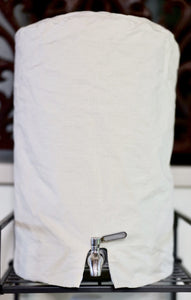 Use coupon code 
WATERISLIFE
.
Similar to fine wine, spectacular spring water also stores best in cool darkness.
.
Especially after harvesting raw wild spring water, this method of protection will keep any beneficial probiotic microflora in the water from photosynthesising in the light. 
.
These organic cotton covers are custom designed to fit perfectly over our jug and dispenser when stacked together. They slide on and off with ease and keep your water away from direct sunlight. They're durable enough for cleaning in electric washers and dryers on gentle cycles.
To learn more or purchase, visit the Alive Waters site from the "buy now" affiliate link.