Aerobic Stabilized Oxygen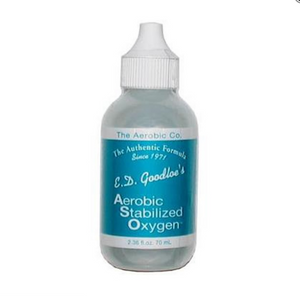 E.D. Goodloe's Aerobic Stabilized Oxygen (ASO)
Concentrated Stabilized Electrolytes of Oxygen Molecules
Boost Your Immune System
has the same electrical charge created by the breathing process.
changes minerals from a solid state to an ionic state of assimilation.
cannot over oxidize the cells; iron atoms in the red blood cells
releases only the amount of oxygen the cells can use.
And, did you also know that…. ?
the immune system combats infection.
aerobic bacteria must have oxygen to survive.
food ingested putrefies prior to digestion… putrefying bacterium is
never favorable for aerobic and anaerobic bacteria simultaneously.
Satisfied users worldwide promote better health adding up to 20 drops of Aerobic Stabilized Oxygen (TM) to water (6 to 8 oz.) or juices 3 times daily. Virtually tasteless and odorless when used as directed; ASO is also a reliable, versatile, travel companion packaged in easy-to-use 70 mL (2.36 fl. oz.) unbreakable dropper bottles (1400 drops).
*Aerobic Stabilized Oxygen (TM) is safe for all ages; will not dissipate unless left in direct sunlight and guaranteed authentic only when the name E.D. Goodloe appears on the label. As with most products, keep out of the reach of children.
*Formerly Aerobic O7 (R)
All Aerobic Stabilized Oxygen (TM) information was researched by the late E.D. Goodloe
Extends the shelf life of liquids for storage, that you may need to rely upon in case of supply disruption. No need to boil questionable water or other liquids. Use it to make untreated water safe.
Keep a bottle everywhere, at home, business, car, when traveling and your first-aid kit to treat superficial cuts and small burns.
Aerobic Stabilized Oxygen increases your oxygen levels and your health, for more energy. The word "aerobic" pertains to oxygen, one of the reasons aerobic exercise is so important for health. Athletes and active people have more energy and stamina after taking 20 drops in water or juice 3 times daily.
Water is more important than food and Aerobic Stabilized Oxygen eliminates anaerobic bacteria including salmonella, cholera, e. coli, streptococcus, pseudamonas, staphyloccus, and various parasites and micro-organisms including giardia. This was confirmed in studies at Harvard University, Cambridge Massachusetts and Stanford University California and PSI Laboratory, Texas.
 To learn more or purchase, visit the (Life Enthusiast) site from the "Buy Now" affiliate link.