100% PURE ZEOLITE – A VOLCANIC ASH WITH AMAZING PROPERTIES - 2 LBS - SOURCED IN OREGON, USA
Vendor
Greenfield Water Solutions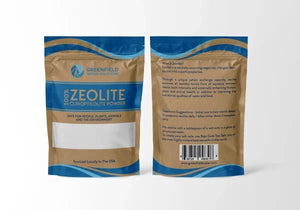 Through a unique cation exchange capacity, removes all harmful toxins from all aqueous environments both internally and externally enhancing human, plant, and animal health as well as improving water and food quality. Include 2 lbs of pure zeolite.

SOURCED IN OREGON, USA
FEEDING, CLEANING, AND PROTECTION BENEFITS:
CAPTURE AND ELIMINATE
TOXINS ELIMINATE HEAVY METALS
ELIMINATE CARCINOGENS
HELP DIGESTION
HELP FIGHT CANCER
REDUCES SUGAR SPIKES
HELP BALANCE pH LEVELS
SUPER ANTIOXIDANT
STRENGTHEN CARDIOVASCULAR SYSTEM
STRENGTHEN IMMUNE SYSTEM
TUMOR ELIMINATION
SHARPEN MENTAL ACUITY
ADAPTOGENIC PROPERTIES
BLOOD CLEANSER
CELL BUILDER
OPTIMIZES ENDOCRINE SYSTEM
NORMALIZES LIPID, PROTEIN & CARBOHYDRATE METABOLISM
SUPERCHARGES INTAKE OF VITAMINS, MINERALS, AMINO ACIDS
CATION EXCHANGE CAPACITY (CEC)
Zeolite is one of the only negatively charged minerals in the world allowing it to be able to have what is called a "cation exchange capacity" or CEC. This CEC is the most outstanding property of zeolite making it an ideal detoxifying agent. CEC occurs when two or more positively charged compounds or elements exchange places on a negatively charged host such as zeolite. The most common exchangeable cations found in natural zeolite molecules are calcium, magnesium, potassium and sodium which are all building blocks for good health. The ability to release beneficial elements while capturing and binding elements that are detrimental to life makes zeolite an ideal mineral for the selective and intelligent adsorption of toxic elements harbored within the body.
ABSORPTION & ADSORPTION
Zeolite has an open framework molecular structure meaning it is very porous to the point that it can absorb 55% of its own weight making it a virtual molecular sponge. The pores extend deep into the molecular strata of the zeolite resulting in a high surface area. The depth of these pores allows for continuous effective absorption. Zeolite's high internal surface area, physical strength, and ion exchange properties account for its exceptional absorption capabilities for heavy metals, radioactive elements, and a multitude of other elements harmful to life. Zeolite does not swell as it absorbs. The honeycomb molecular structure allows for high absorption per weight without losing its structural integrity.
SURFACE CHARGE DENSITY
A very significant and often overlooked property of zeolite is its surface charge density. This charge density is a function of the number of cation exchange sites per unit area in zeolite and the reactivity of the surface. The charge density and cation exchange capacity can vary between the internal surfaces of the zeolite, which are accessible only to small ions and molecules, and the external surfaces of the zeolite, which are accessible to most chemicals regardless of size. A high surface charge density means there are many more cation exchange sites on the external surface of the zeolite lattice. The more numerous and readily available the sites mean the faster the exchange can occur. Zeolite is considered a "permanently living" element.
SAFE AND INTELLIGENT PROPERTIES
Zeolite clinoptilolite has a strictly calibrated pore size (about 4 Angstroms – A). This allows a zeolite structure to be absorbent only in relation to ions of micro­ and macro ­elements and structures of small sizes (ammonia, hydrogen sulphate, methane, etc, without getting in direct contact with vitamins, amino acids, proteins, and other complex organic structures). This means, that compared to other sorbents which should not normally be taken longer than 2 weeks, clinoptilolite can be used for a long time since it does not absorb (and consequently does not extract) the above-mentioned important substances (vitamins, amino acids, proteins, etc.) out of the body. Zeolite simply cannot absorb them due to the small structure of its channels. Natural zeolites do not get absorbed into the digestive system and cannot get into the blood circulation in their crystalline form. They pass in transit, only interacting with the body on the selective ionic exchange level when in contact with the blood and lymphatic vessels of the intestinal wall, providing micro­ and macro ­elements, collecting toxins, and acting as a catalyst in chemical reactions.
HOW TO USE ZEOLITE AS A MINERAL SUPPLEMENT
I have been consuming a teaspoon of pulverized zeolite powder on a regular basis for over a decade as part of my morning tonic. Before drinking or eating anything else, I mix up my 16-ounce tonic consisting of a couple of tablespoons of salt sole*, zeolite, pure maple syrup, raw vinegar, colloidal silver, and structured water. As I consume my morning tonic, I swish the water around to keep the zeolite suspended and add more water at the end to ensure all of the zeolites in the bottom of the glass are consumed. I occasionally add freshly squeezed lemon juice as well. The contents of your morning tonic are only limited by your imagination.

My preference is to use zeolite powder only in its natural form. I consider the terms, "pharmaceutical grade" or "washed" to be gimmicky. I purchase my zeolite in 50 bags packaged as an animal and poultry feed supplement directly from a zeolite mine. I purchase by the pallet because I also use zeolite as a soil amendment. Zeolite can also be added to soups, beverages, bread or cake recipes or mixed with chocolate or salad dressings. It is also beneficial for use in your refrigerator, on your carpets, for oil spill cleanup, and as an environmentally friendly de-icer for sidewalks and driveways.

*A salt sole can be created by saturating a glass jar of structured water with sea salt, preferably, SeaAgri90 or Baja Gold Sea Salt which is the most highly mineralized sea salt in the world.