Shower Revitalizer
Vendor
Natural Action Technologies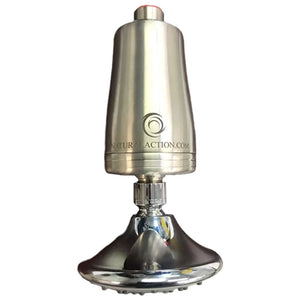 Use coupon code 
WATERISLIFE-10 
to get 10% off 
any purchase
from Natural Action
.
.
Natural Action's shower flow-form is based on the way water moves in nature. It mimics the double vortexing spiral dynamics of a cascading stream, giving you the same energizing invigorating effect you would experience bathing in a spring-fed waterfall.
It hydrates and softens your skin and hair, preventing the itching and drying effects of chlorine or hard water. And it improves overall hair health and skin elasticity.
This structurer is not a filter, so it doesn't physically remove anything from the water. Instead, it changes the structure of any molecular toxins that may be present, helping to neutralize and render them benign. It also naturally softens any mineral-hard water. 
And because this kind of water reduces mold growth, you won't have to change your shower curtain as often.
Personally, here's my favorite aspect of showering in living water, besides the softer hair and skin of course… it's the feeling you get when inspiration strikes! Have you ever wondered why your best ideas come to you in the shower? It's no coincidence, it's science. The energy generated by the vortex inside the device charges the electromagnetism of water, so your shower will emit more charged ions. Ions are just molecules that have lost or gained an electrical charge.  It's the same reason you may feel a sense of renewed vigor or well-being when visiting a seashore or forest, both of which have high levels of charged ions in the air. Breathing in ions is known to increase oxygen flow to the brain, facilitating alpha brainwave states and improving serotonin levels.
Each time you shower it's like taking a little trip to the spa. 
To learn more or to purchase, click the "buy now" affiliate link