AQUAVAS STONEWARE & BERKEY COUNTERTOP REPLACEMENT FILTERS
Vendor
Greenfield Water Solutions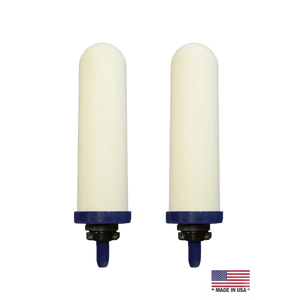 The Artisian Stoneware Countertop Gravity Filtration requires either 2 Aquametix filters or 2 Cerametix filters. Aquametix and Cerametix filters are among the finest made filters in the world and are proudly made in the USA.
NOTE: If you have a Berkey these filters are also compatible.
These filters require AT LEAST 2-4 reservoirs to prime BUT POSSIBLY MORE to relieve the initial taste associated with new filters, then do not need priming again, they do not contain activated alumina like Berkey filters. This is a  more effective solution that covers a broader contaminant spectrum.
Filter Descriptions
Aquametix – Broadband contaminant removal including difficult-to-remove contaminants such as nitrates and fluorides.  A great choice for city water applications.
Cerametix – Similar filtration to Aquametix, only with added pathogen removal down to .2 microns eliminating e coli, bacteria, pathogen, and very fine particulates most often associated with well but occasionally occurring in city water. Made in the USA.
*Optional* Introduce life-enhancing elements back into your water. Add our hand-mixed mineral bag for the bottom reservoir of your Berkey or Terra2 to increase pH, and provide beneficial minerals. Includes Zeolite, Magnesium Oxide, and Calcium (Minerals mindfully sourced and tested for pureness) *Annual replacement* 
Instructions: Place the mineral bags in the bottom reservoir, you can also pour them into the bottom reservoir.
THE PRICE INCLUDES 2 REPLACEMENT FILTERS
MADE IN MICHIGAN, USA
(LAB TESTS DO NOT ALWAYS REFLECT REAL-WORLD SITUATIONS WITH WATER, ALL CONTAMINANT REMOVAL IS SUBJECTIVE TO WATER QUALITY)